Product description
Shipping & Return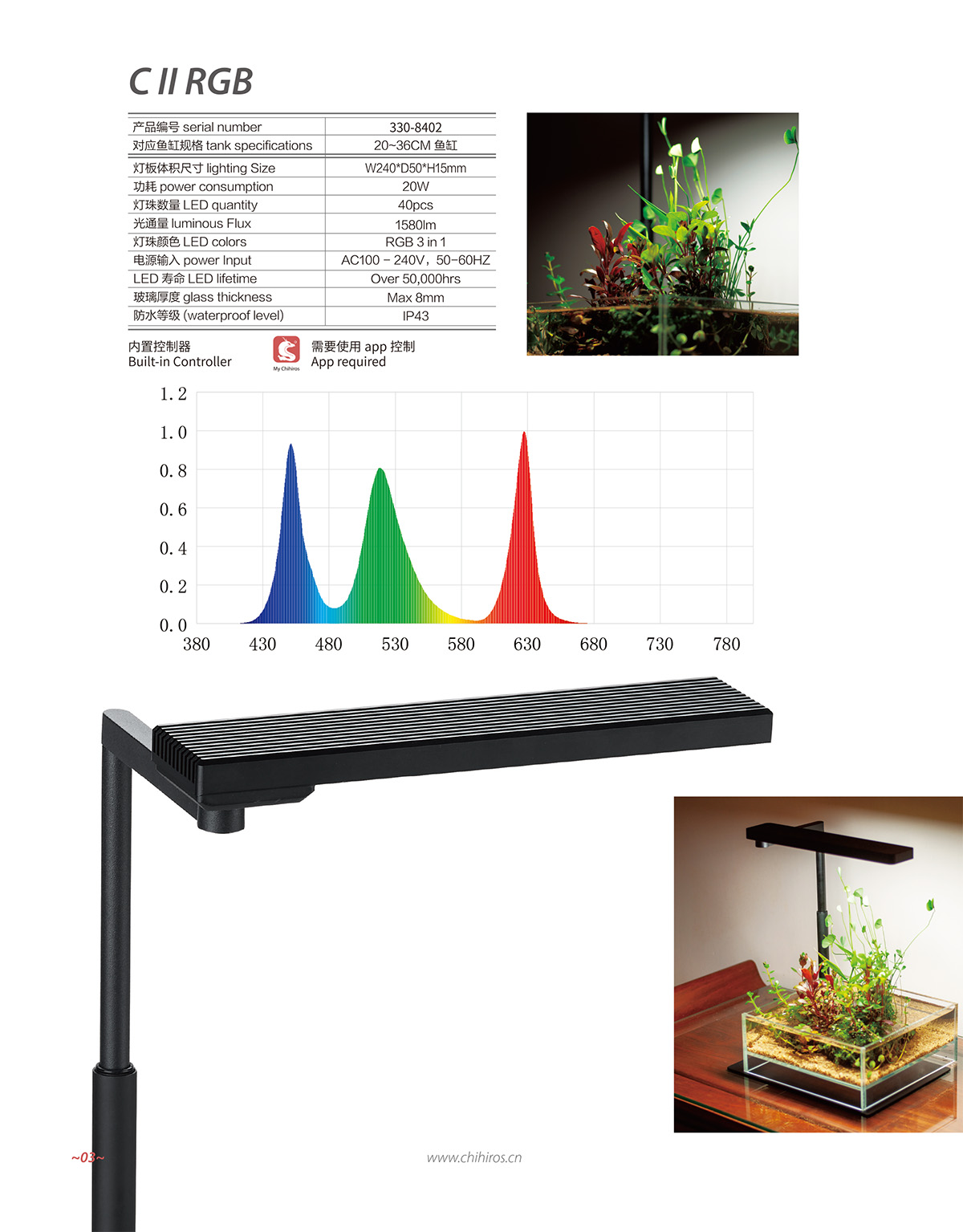 Chihiros C II RGBis slightly different than the C II White. C II RGB includes red. green. & blue LEDs.The LED is programmed via the "My Chihiros App" with built-in Bluetooth & does not need a external controller. The app offers individual control over the three color channels "R" (red). "G" (green) and "B" (blue). allowing for ramping of each channel. sunrise/sunset. & a built in timer.
The Chihiros C II comes with a 360 degree swivel allowing you to cover in any direction from 20 - 36cm(7.9-14.2in)
Voltage: 110 ~ 240v
Power: 20w
40 RGB LEDs400-700nm
1580 Lumens
Fits Aquariums20 - 45cm(7.9-17.8in)
Built-in Bluetooth
Elevate your aquatic world with the Chihiros CII RGB LED Lighting System, a masterpiece designed to ignite your imagination and bring mesmerizing brilliance to your underwater haven. With cutting-edge built-in Bluetooth technology, this lighting marvel empowers you to create captivating lighting displays with unmatched convenience.


📱 Effortless Control with Bluetooth:
Experience the next level of ease with built-in Bluetooth. Effortlessly connect your mobile device to the Chihiros CII RGB and explore a world of limitless possibilities. Control colors, brightness, and lighting effects from the palm of your hand, and let your creativity flow freely.

🌅 Emulate Nature's Transitions:
Simulate the enchanting beauty of sunrise and sunset in your aquarium with the Chihiros CII RGB. Create gradual lighting changes that mirror nature's daily rhythms, mesmerizing your fish, plants with lifelike illumination.

🌿 Nurture Healthy Plant Growth:
Empower your aquatic plants with the Chihiros CII RGB's precise light spectrum. Designed to promote healthy growth and photosynthesis, this lighting system provides the essential energy your plants crave to flourish.

💎 Sleek and Slim Design:
Crafted with sophistication and efficiency in mind, the Chihiros CII RGB boasts a sleek and slim profile that seamlessly blends with any aquarium setup. Its adjustable brackets and easy installation system make it a breeze to add a touch of brilliance to your aquatic paradise.

🔧 Durability and Reliability:
Built to stand the test of time, the Chihiros CII RGB combines durability and reliability, ensuring years of captivating illumination for your underwater world.

Unleash your inner aquascaping artist with the Chihiros CII RGB LED Lighting System. Let the power of built-in Bluetooth put creativity at your fingertips as you paint your aquatic canvas with breathtaking colors and transitions.
Shipping cost is based on weight. Just add products to your cart and use the Shipping Calculator to see the shipping price.
We want you to be 100% satisfied with your purchase. Items can be returned or exchanged within 30 days of delivery.